Product description
APC Series 250 Ton Precision Metal Stamping Press adopts a multi-direction motion system, in which connecting rods are installed between double cranks and these rods are used to bear the load from two wide operation centers-ram and bolster. These designs help to prevent forward tilt – the direct cause to produce deviation. In this way, stamping's high-precision and small vibration could be well guaranteed. Therefore, the stamping press is quite suitable for multi-station precision pressing.
Product features
● High stiffness for its frame: Quality welded steel plates are adopted as the raw material of 250 - ton stamping press's frame. These plates undergo stress relieving, which allows for a high and stable presses precision.
● Precision stamping press possesses same center with its driving center, which allows for a stable and precise stamping.
● Two balancing devices are installed on our 250 –Ton precision stamping press, which allows a relatively stable operation.
● Allowable tolerance for this press machine is 0.1mm, which enables safe, convenient and reliable operation.
● After hard anodizing, grinding and other machining, our crankshaft, gears, connecting rods and other components all possess high performance in its physical and chemical properties.
● Since 250-ton precision metal stamping press is equipped with clutch, brake, double solenoid valve (controlling clutch by cutting off or putting through the air supply), overload protector, the safe and precise operation of stamping press's slides is guaranteed.
Parameters
Name
Unit

APC-250

Model


V
H
Capacity
Ton
250
Rated tonnage point
mm
7
3.5
Stroke
mm
280
170
Stable speed
s.p.m
20-35
30-60
Die height
mm
550
605
Slide adjustment
mm
120
Bolster area
mm
2700X900X170
Slide area
mm
2100X700X95
Main motor
kwxP
22x4
Presses weight
Ton
45.5
Air pressure
kg/cm2
5
Presses precision


JIS(CNS) class 1
Die cushion capacity


Two plate & two cylinders
Capacity
Ton
14x2
Air pressure
kg/cm2
6
Stroke
mm
100
Die cushion work part dimension
mm2
640 x 470 x 2
Part dimension
mm2
540 x 350 x 2
Capacity curve chart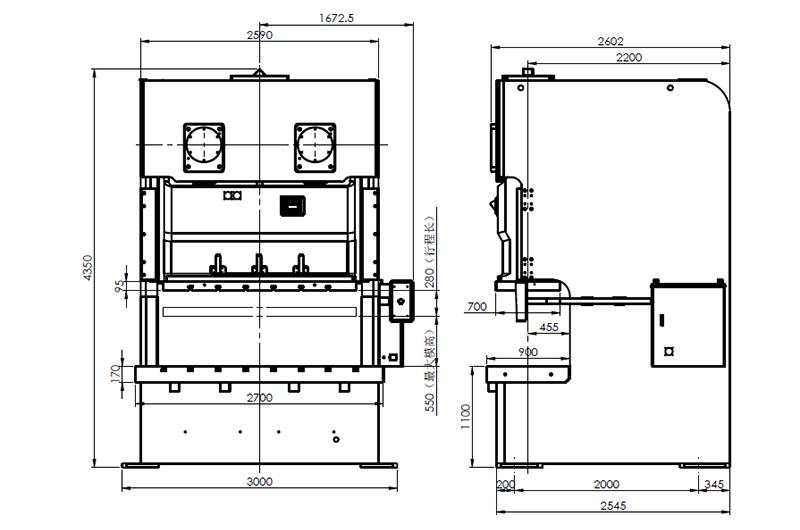 Specification
Model
V
H
V
H
V
H
V
H
AA
2000
2200
2620
3000
AB
1900
2080
2460
2800
AC
1360
1520
1820
2200
AD
1800
2000
2400
2700
AE
1510
1660
1990
2220
AF
1400
1600
1850
2100
AG
1780
1980
2320
2590
BA
1745
1940
2235
2545
BB
1295
1380
1885
2195
BC
650
760
840
900
BD
330
385
425
455
BE
500
550
650
700
HA
(630)
(730)
(790)
(820)
HB
830
865
990
1025
1070
1120
1100
1155
HC
400
435
450
485
500
550
550
605
HD
180
110
200
130
250
150
280
170
HE
3059
3709
3849
4304
HF
1240
1440
1570
1680
OH
035
047
054
054
Capacity curve chart

Standard configuration
Dry clutch brake
Standard operating system of Yiduan
Choice/cutting/inch/safe journey/continuation of operating mode
Oil pressure overload protection device
Over-run safety device
Double solenoid valve
Misfeed detection device
Electric slider adjusting device
Digital molding-height indicator (unit: 0.1 mm)
Electric butter lubricating device
Accumulative counter (6 digits)
Pre-determined counter (6 digits)
Maintenance counter (6 digits)
Life counter (6 digits)
Electronic rotary cam switch (6 connections)
Air-blast device 1/2" primary circuit
Air source connector 1/2" secondary circuit
Error inspection socket
Power socket (only applied to single-phase 110V power)
Optional configuration
Wet clutch brake
Die cushion device
Vs variable-speed motor
Touch-screen device
Photo-electric safety device
Upper slider feeding device
Main motor inversion device
Foot switch
Safety dog and safety latch
T-type two-hand button operating floor
Inspection variable connection magnetic valve
Anti-vibration mechanical foot
Rapid die change device
Upper die clamper
Lower die clamper
Die lifter
Mold-shift arm
Basic bolt and soleplate
Automatic feeder device
Three-in-one NC straightening feeder
NC idler wheel feeder
Three-in-one feeder and straightening machine
Straightening machine